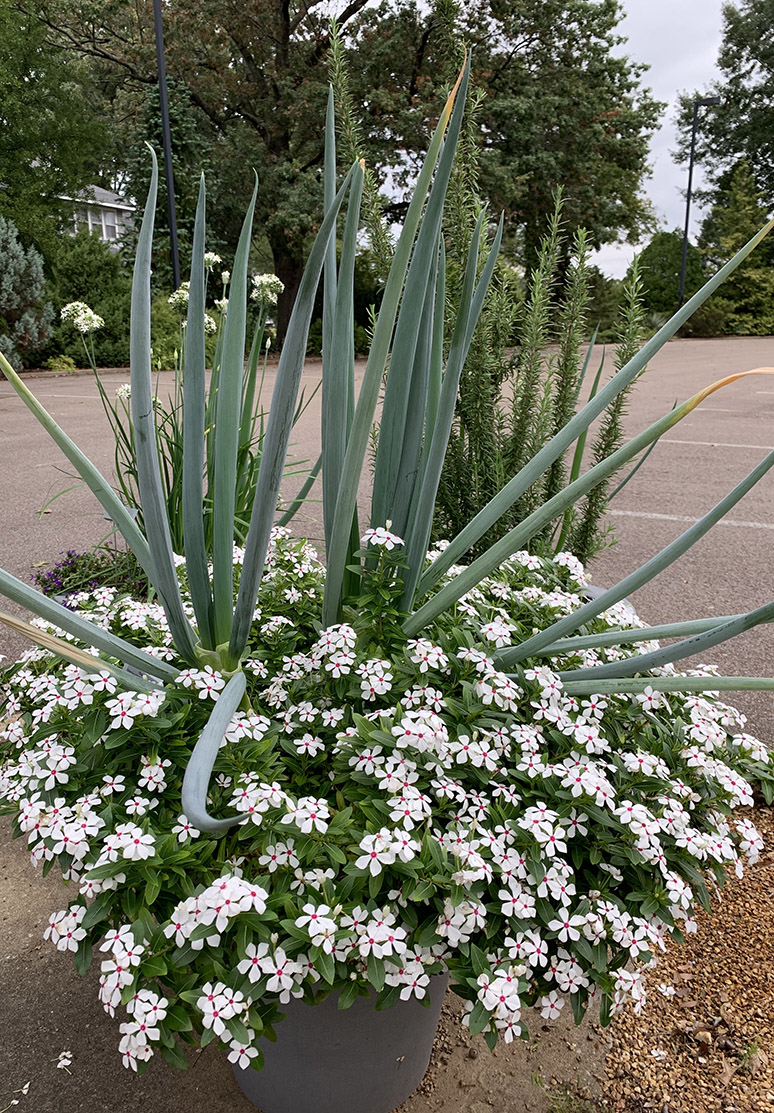 UT Gardens' May 2022 Plant of the Month
Submitted by Jason Reeves, research horticulturist, University of Tennessee Gardens, Jackson
I have always been a big fan of the annual, Catharanthus roseus, better known as vinca. They are blooming machines, flowering all summer despite our heat and humidity. They are also drought tolerant once established, and pest free. The Titan, Pacifica, Mega Bloom, Tattoo and Mediterranean series have long been favorites of mine.
In 2019, while attending a trade show in Ohio, I met Soiree® Kawaii and knew I had to give this series a try. The following spring Suntory sent us samples of each color to grow and evaluate. They were fantastic performers, and we fell head over heels for the cute little things. This summer you see them growing at the UT Gardens in Jackson, Crossville and Knoxville. We even grow them for our plant sale at the UT Gardens, Jackson, so you can enjoy them, too!
Developed in Japan by Suntory Flowers and introduced for sale in 2016, Soiree Kawaii® has taken a few years to catch on. They are described as tiny, but terrific! Indeed, they are. The word "kawaii" means cute in Japanese, describing the flower size and shape. These plants are produced from cuttings, whereas most vinca on the market are seed grown. Unlike seed-grown vinca, the plants grow more like a little mounding shrub reaching 6 to 10 inches tall and 12 to 18 inches wide. They are dense, well branched and covered with hundreds of blooms half the size of most vinca. The foliage is deep glossy green like standard vinca but also half the size. Think of them as vinca's cute little sister!
Like all vinca, Soiree should not be planted until the soil warms, and they need six or more hours of full sun and well-drained soil. Once established, they will tolerate drought but will perform best with supplemental water when there are long periods without rainfall. They work well in the landscape at the front of the border, as well as in containers where they will trail over the side by late summer. Just don't plant them with aggressive plants such as sweet potato vine and trailing petunias, which will overtake Soiree.
Soiree Kawaii® comes in seven colors: Lavender, Blueberry Kiss, White Peppermint, Red Shades, Coral, Coral Reef, and Light Purple. Also, in the Soiree® family is Soiree® Double. The growth habit of Soiree® Double vinca are more like standard seed-grown vinca, but with a double flower. Soiree® Double comes in Orchid, Pink and White, which is a pale pink rather than a true white.
If you're looking for carefree color all summer, give Soiree® Kawaii a try!
The UT Gardens includes plant collections located in Knoxville, Crossville and Jackson. Designated as the official botanical garden for the State of Tennessee, the collections are part of the UT Institute of Agriculture. The Gardens' mission is to foster appreciation, education and stewardship of plants through garden displays, educational programs and research trials. The Gardens are open during all seasons and free to the public.