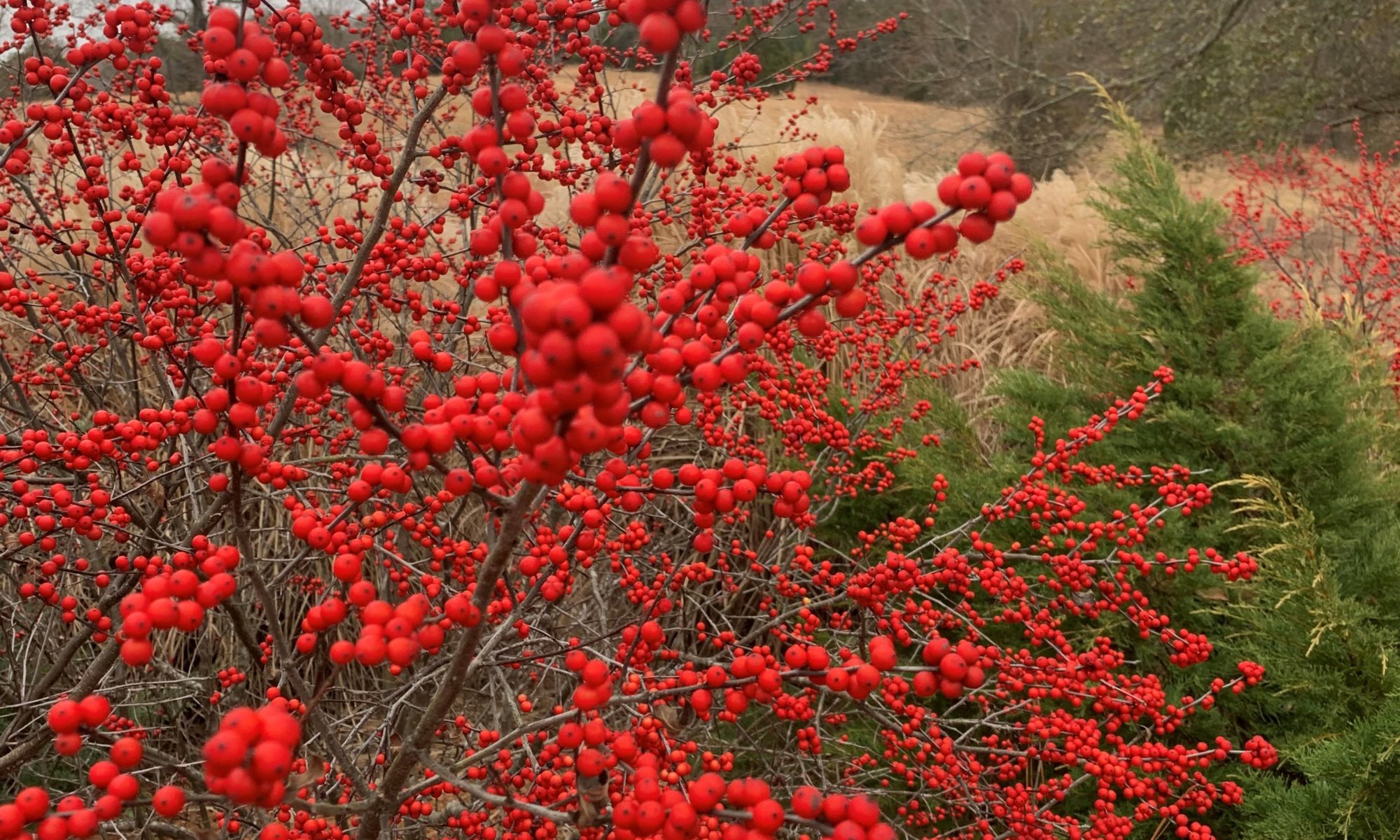 UT Gardens' November 2022 Plant of the Month
Submitted by Shalena Durkot, Garden Coordinator, UT Gardens, Crossville
As the beautiful fall-colored leaves drop and we transition into winter, winterberry holly (Ilex verticillata) is sure to catch your eye. The berries are especially prominent when the holly is planted in front of evergreens. Unlike most hollies, winterberry holly is deciduous which adds to the "berry" pleasing display on its bare branches during the plant's namesake winter months. While red berry varieties of the holly tend to be most popular, there are gold and orange cultivars, as well.
Ilex verticillata is native to eastern North America (USDA plant hardiness zones 3 to 9) where it typically occurs in wetlands or along lakes and stream banks. The shrub is slow growing and may reach up to 15 feet in the wild, but tend to be smaller in the home landscape. Though commonly found in wet areas, winterberry holly is easily grown in average, well-drained, acidic soils with adequate moisture. Generally the shrubs are pest and disease free, but they can be susceptible to leaf spots and powdery mildew. They may readily sucker to form a colony in wet sites, and remain in a tighter clump with drier soils. Winterberry holly will grow in part shade, however their best fruit production occurs in full sun at sites that receive six or more hours of sunlight a day.
The shrub has elliptical, toothed leaves that are two to three inches long, and it develops inconspicuous, greenish-white flowers in late spring. Most importantly, Ilex verticillata is dioecious, meaning that some plants are male and some female. To enjoy the bountiful berries for which this plant is cherished, you must plant both male and female plants in your landscape. One male plant can pollinate five to 10 females and should be planted within 40 to 50 feet. It is also important to match bloom times when selecting a male pollinator. Some bloom earlier than others, and the more overlap you can achieve, the better the berry production will be.

Winterberry holly is quite versatile in the landscape. As mentioned earlier, the plant is stunning with an evergreen backdrop. Shrubs can also be used as hedges, borders, foundation plantings, native gardens, rain gardens, and for wildlife. Ilex verticillata attracts many species of songbirds, as well as butterflies and beneficial insects, including bees and other pollinators. The berries make a wonderful addition to holiday arrangements. In fact, December is a good time to do any needed pruning, or otherwise wait until late winter and prune before new growth appears.
You can see winterberry hollies in person growing at all three locations of the University of Tennessee Gardens.
Popular winterberry holly cultivars with their recommended pollinators include:

'Winter Red' grows 6 to 8 feet tall, multi-stemmed, abundance of red berries.
Pollinator, 'Southern Gentleman' grows 6 to 8 feet tall.

'Winter Gold' grows 5 to 8 feet tall, dense, heavy fruiting orange-yellow berries.
Pollinator, 'Southern Gentleman' grows 6 to 8 feet tall.

'Nana' (Red Sprite) dwarf cultivar grows to 3 feet, bright red berries.
Pollinator, 'Jim Dandy' grows 3 to 6 feet.

'Berry Poppins' dwarf cultivar grows 3 to 4 feet, display of red berries.
Pollinator, 'Mr. Poppins' grows 3 to 4 feet.

'Berry Heavy' grows 6 to 8 feet, bright red berries.
Pollinator, 'Mr. Poppins' grows 3 to 4 feet.

'Berry Heavy Gold' grows 6 to 8 feet, big, bright gold fruit.
Pollinator, 'Mr. Poppins' grows 3 to 4 feet.
The UT Gardens includes plant collections located in Knoxville, Crossville and Jackson, Tennessee. Designated as the official botanical garden for the State of Tennessee, the UT Gardens are part of the UT Institute of Agriculture. The Gardens' mission is to foster appreciation, education and stewardship of plants through garden displays, educational programs and research trials. The Gardens are open during all seasons and free to the public.
For questions or comments please contact: utgardens@utk.edu