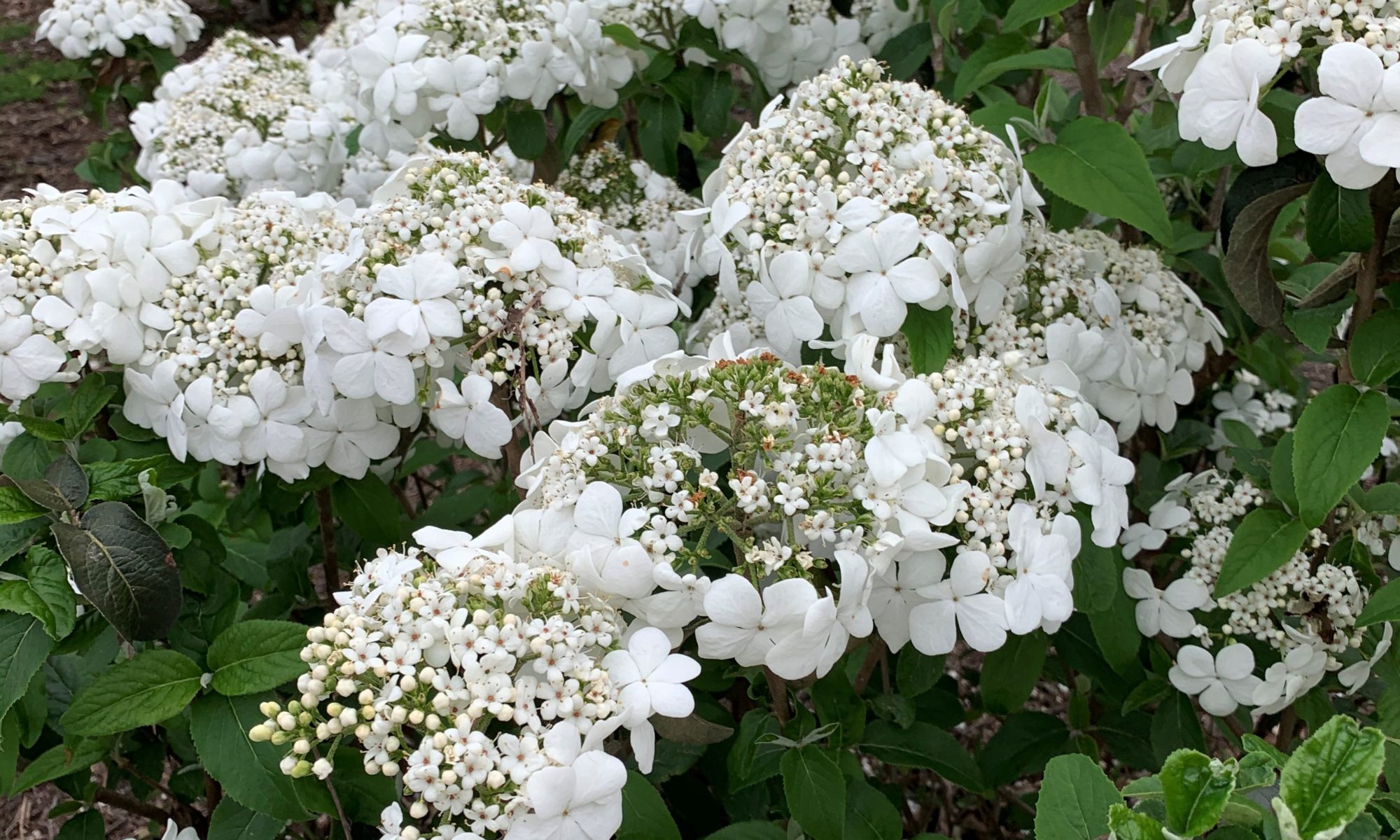 UT Gardens' February 2023 Plant of the Month
Submitted by Andy Pulte, Distinguished Lecturer and Director, UT GATOP Arboretum and Education Center
Viburnums are a versatile and popular choice for use in the Tennessee landscape. These shrubs and small trees can be used in a variety of ways. They are known for their four-season interest including attractive flowers, berries, and foliage. Viburnums are also a great choice for attracting birds and wildlife to the garden. Many are easy to grow and are tolerant of a wide range of soils and environments, this makes them a natural choice for the garden.
Viburnums require minimal maintenance in the landscape and the larger ones look great in the back of a garden border. Some of the most well-known, old standby viburnums used across the Southeast are the snowball bush (Viburnum opulus), Chinese snowball bush (Viburnum macrocephalum), fragrant snowball viburnum (Viburnum x carlcephalum), blackhaw viburnum (Viburnum prunifolium), arrowwood viburnum (Viburnum dentatum) and American cranberry bush viburnum (Viburnum trilobum).
As the State Botanical Garden of Tennessee tests new plants, we have a few newer viburnums we have really enjoyed. 'Spring Lace' hybrid viburnum (Viburnum x 'Spring Lace') has been one of our favorites. You will see how it gets its name in mid-spring as it is covered in large white lace-cap-type flowers. A mid-sized plant at maturity, 5 feet wide by 5 feet tall tends to be its garden size.
Another winning new viburnum at our gardens is Pearlific® viburnum (Viburnum 'PIIVIB-I'). This is a complex hybrid viburnum with good heat tolerance for our region. Flowers are pink in development and open to pure white. Floral scent is pleasant but not overpowering. A slightly smaller shrub, you can expect plants to reach 4 feet wide by 4 feet tall in 8- to 10-years and top out at 6 feet tall and wide over time.
I firmly believe there is room for at least one viburnum in almost every residential landscape. We have many native species in the United States and wildlife love them. As a group, you can find both evergreen and deciduous viburnums. Some of the deciduous selections are prized for their fall color. If you are not familiar with viburnums, let this article be the start of discovering the perfect viburnum for your landscape. We invite you to come see the diversity of viburnums growing at all the UT Gardens sites across the state.
The UT Gardens includes plant collections located in Knoxville, Crossville and Jackson, Tennessee. Designated as the official botanical garden for the State of Tennessee, the UT Gardens are part of the UT Institute of Agriculture. The Gardens' mission is to foster appreciation, education and stewardship of plants through garden displays, educational programs and research trials. The Gardens are open during all seasons and free to the public. For more information, see the Gardens website: utia.tennessee.edu/state-botanical-garden.
For questions or comments please contact: utgardens@utk.edu