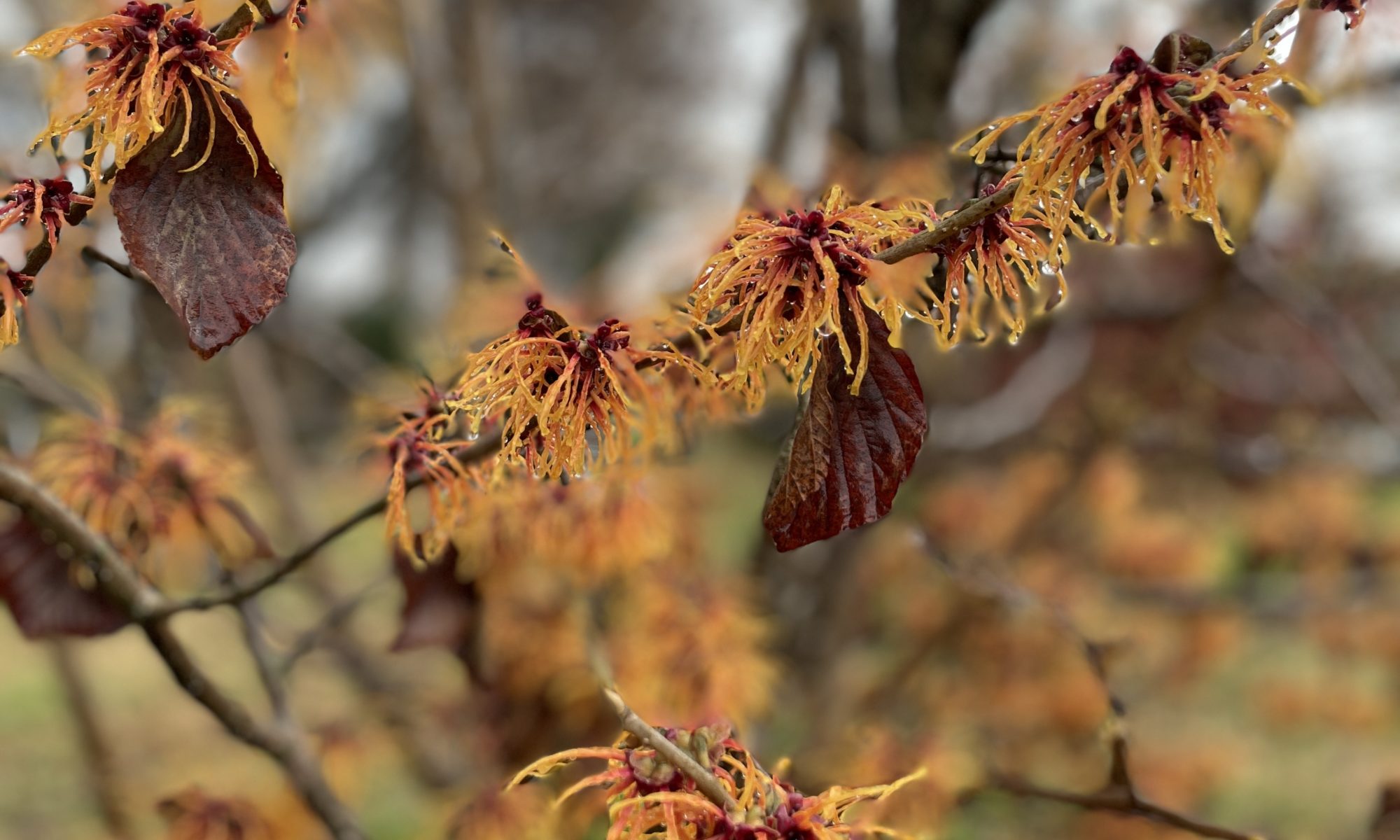 UT Gardens' January 2023 Plant of the Month
Submitted by Shalena Durkot, Garden Coordinator, UT Gardens, Crossville
We all want something to look at in our gardens year-round. Blooms at unexpected times can bring a world of joy to the garden, and among the plants that offer them are witchhazels (Hamamelis spp.). There are many types of witchhazel shrubs and trees you can grow. Each one is a cool-season favorite with fringed, often sweetly fragrant blooms. Many species also have nicely colored fall foliage adding to their appeal. 
Ranging in both habit and size, witchhazels vary in form from a dense rounded to a wide spreading shrub, or an upright multi-stemmed vase-shaped tree. While best grown in moist, well-drained, acidic soils, witchhazel is adaptable and tolerant of heavy clay. Plants can be grown in sun or shade, but increased sunlight with adequate moisture improves their flower display.
Witchhazel has low maintenance demands as well as good pest and disease resistance. Pruning is not required but can be done in spring after flowering to control shape, size, and removal of any suckers from the root stock. Although serious disease and insect problems are rare, Japanese beetles, leaf gall aphids, and powdery mildew can occur on occasion.
There are plenty of places witchhazel can fit in the home garden. Plant as a single specimen, add to a mixed border or use in group plantings. Overall, this is an easy and worthwhile plant to add to your landscape.
The following is a list of the more common species and hybrids and recommended cultivars. Most grow between 10- and 15-feet high and thrive in USDA Plant Hardiness Zones 5 to 8. Witchhazels can be found growing in all three locations of the University of Tennessee Gardens.
H. virginiana (common witchhazel): A fall blooming favorite among native plant lovers. Grows 20 to 30 feet in the wild with cultivars in the 10- to 15-foot range. Fragrant, yellow blooms October to December. Golden fall foliage.
'Harvest Moon' – Notable for its tendency to drop its leaves before it flowers, unlike most other native varieties which flower with the leaves still attached making the blooms less visible.
'Little Suzie' – Compact, slow growing to 4 to 5 feet in 10 years. Blooms at an early age, more densely than the species.

H. vernalis (vernal/Ozark witchhazel) has the smallest flowers of all the species but makes up for size with the most intense fragrance. Grows 6- to 10-feet tall with wider spread. Yellow to red blooms January to March. New leaves emerge bronze to reddish purple with golden fall foliage.
'Amethyst' – deep red purple flower best backed by some lighter color.
'Quasimodo' – Dwarf, growing slowly to 4 to 6 feet. Fragrant, orange blooms. Leaves smaller than species, blue-green turning yellow in fall.

H. mollis (Chinese witchhazel) & H. japonica (Japanese witchhazel) have been crossed to produce the hybrid H. x intermedia. Cultivars of this hybrid have gained popularity due to their wide range of flower colors like orange, red, pink, and purple opening in January to mid-March.
'Aurora' – Two-toned long petals with yellow tips and an orange base.
'Angelly' – Vigorous upright-spreading form with clear bright yellow flowers.
'Arnold Promise' – Large, clear yellow fragrant flowers.
'Aphrodite' – Copper-red with reddish fall foliage.
'Diane' – Red flowers with leaves turning shades of yellow, orange and red in fall.
'Feuerzauber' – Excellent coppery orange-red flowers. Orange-red fall color.
'Gingerbread' – Deep burnt-orange flowers. Yellow fall foliage.
'Jelena' – This prized hybrid has a sweet fragrance and showy copper flowers in winter with rich, orange-red foliage in fall.
'Wisley Supreme' – This cultivar of H. mollis has sweet-scented, pale yellow flowers often opening as early as Christmas.
The UT Gardens includes plant collections located in Knoxville, Crossville and Jackson, Tennessee. Designated as the official botanical garden for the State of Tennessee, the UT Gardens are part of the UT Institute of Agriculture. The Gardens' mission is to foster appreciation, education and stewardship of plants through garden displays, educational programs and research trials. The Gardens are open during all seasons and free to the public.
For questions or comments please contact: utgardens@utk.edu