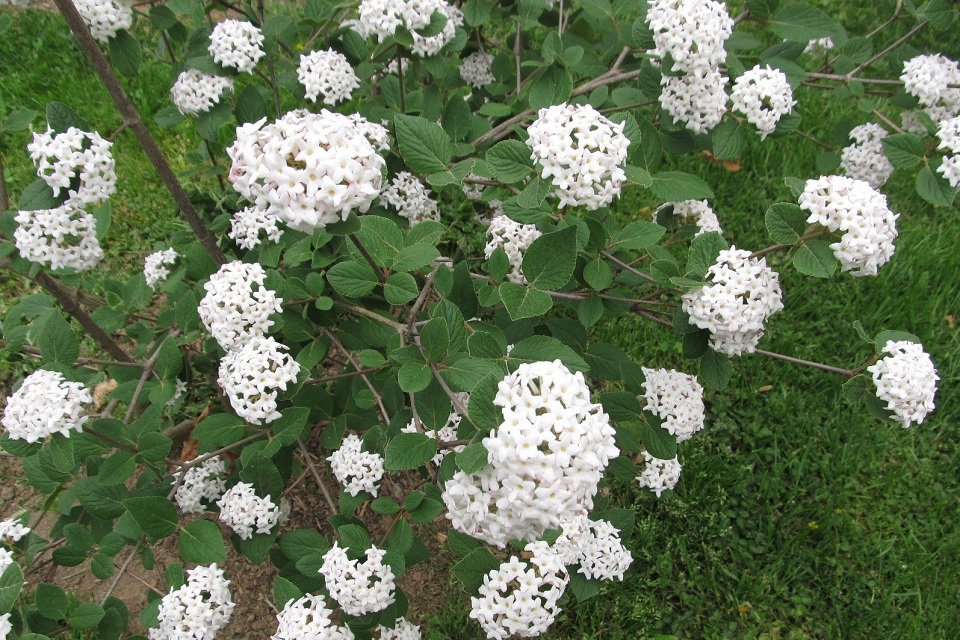 ​A Fragrant Spring Shrub Not To Be Missed
UT Gardens' April 2018 Plant of the Month: Koreanspice viburnum
Submitted by Sue Hamilton, director, UT Gardens, Knoxville​
The cherries have bloomed and so have the magnolias and redbuds. Next we'll see the spring displays of dogwoods, azaleas, and another very special group of plants that I love: the viburnums. Many are not familiar with viburnums, but I can't imagine any landscape not having at least one. They have so many outstanding qualities. Viburnums comprise a huge group of plants that includes more than 150 species and oodles of named cultivars. They include deciduous and evergreen shrubs and even small trees. Most are native to North America or Asia.
If I had to select just one viburnum to have in my spring landscape, it would be the Koreanspice viburnum. Known botanically as Viburnum carlesii, this viburnum is one of th​​​e most fragrant spring-flowering shrubs you can have in the landscape. As the common name implies, it is native to Korea and has spicy, clove-scented blooms. Beautiful pink to red buds lead to showy half-inch white flowers that form 2- to 3-inch snowball-like clusters.
In Tennessee, flowering usually starts around late March lasting into mid April. The plant species grows up to 8-feet tall and wide, with a dense, rounded habit. This deciduous shrub has foliage that usually turns dull red in fall but may sometimes display attractive shades of wine-red to burgundy. It prefers full sun to part shade in well-drained soil. Red turning to black, small, drupe fruit mature in late summer. Because of numerous varieties on the market, this shrub lends itself well for multiple uses in the landscape.
Depending upon selection, cultivars range 3- to 8-feet tall and 3- to 8-feet wide. Use in mass or mix with other plantings. Viburnum species make nice shrub borders, hedges or foundation plants. Small selections can be grown in decorative containers.
Following are the most popular selections of Koreanspice viburnum on the market that I recommend; all grow well in our region of the country.
'Cayuga' – This hybrid selection was introduced by the U.S. National Arboretum and is considered a superior plant. It is a large, dense grower that reaches 5-feet tall and 7-feet wide. Striking pink buds lead to pink fading to white blooms.
'Aurora' is known for having a superior floral display. The clusters are larger with pink-white blooms that open from deep pink buds. The fragrance is very strong. This cultivar grows 6- to 8-feet high and wide. Its prolific deep pink-red buds open to pinkish-white flowers.
'Compactum' is a dwarf form reaching 3- to 4-feet high. It was originally introduced by a Rhode Island nursery in 1953.
Spice Bouquet™ grows 4- to 5-feet high and 5- to 6-feet wide. Dark rose-pink buds open to soft pink flowers.
Spice Island™ grows 3- to 5-feet high and wide. It sports red-pink buds and white flowers. It also features dark green leaves and a red color in the autumn.
Sugar N' Spice™ grows 4- to 5-feet high and wide. It has dark green leaves and a maroon color in autumn.
Spice Baby™ is compact growing 3- to 5-feet tall and just as wide.
You can find Cayuga, Compactum, and Spice Baby on display in the UT Gardens, Knoxville.
The UT Gardens includes plant collections located in Knoxville, Jackson and Crossville. Designated as the official botanical garden for the State of Tennessee, the collections are part of the UT Institute of Agriculture. The Gardens' mission is to foster appreciation, education and stewardship of plants through garden displays, educational programs and research trials. The Gardens are open during all seasons and free to the public. For more information, see the Gardens website: ag.tennessee.edu/utg.
Contact:
Dr. Sue Hamilton, UT Department of Plant Sciences, 865-974-7308