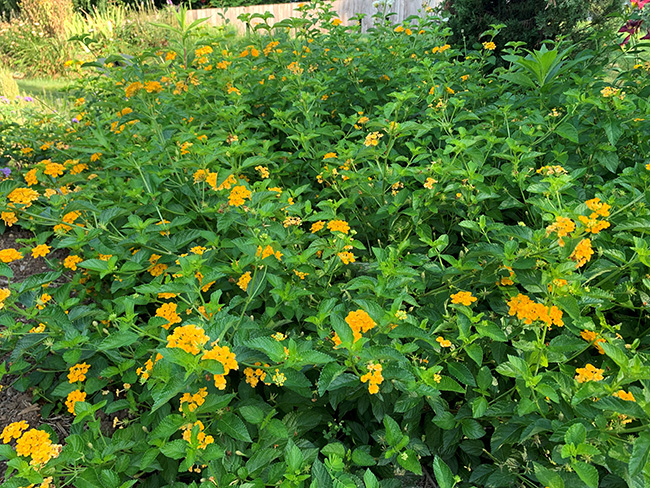 UT Gardens' July 2022 Plant of the Month
Submitted by James Newburn, Interim Director, UT Gardens, Knoxville
As a child, I was always fascinated with Lantana and its blooms. All those tiny individual florets forming one substantial flower cluster was a wonder to me. I used to pick the little flower heads apart and see how many single flowers I could get. The color of the flower head also captivated me. I remember how the separate flowers slowly faded or darkened to other shades as they aged. Then there were the bicolors that would have contrasting colors on the outer rings of the cluster (or umbel inflorescence as I learned later). These, too, transitioned as they aged.  How cool was it that a flower could change colors!
As an adult gardener, I became aware of just how valuable Lantana (Lantana camara) is in the landscape. It is drought tolerant once established, very heat resistant, and provides season-long color, even tolerating a light frost before succumbing to winter freezes. It is a semi-woody shrub that can get up to 2 to 4 feet tall and wide or larger, so one specimen can make a big splash in a garden bed. Newer varieties are more compact and are ideal for mixed containers or as a landscape border. Throughout Tennessee, we treat them as annual bedding plant for the most part.
There are a few cultivars, however, that have been shown to be hardy in some parts of the state and will regrow each year. It all depends on how low the temperature gets in the winter. 'Miss Huff' is perhaps the most reliably hardy, widely available and popular cultivar in Tennessee. Established plants can withstand 0◦ F. With showy pink, yellow and orange florets this selection is standout. Jason Reeves at UT Gardens, Jackson, related that he has plants there that have been coming back for 15 years now. It is a vigorous grower and his reaches in the 4- foot range though they can get taller.
Another Lantana that has shown to be hardy in many areas of Tennessee is 'Ham and Eggs'. This variety has a rather richer, deeper bicolor inflorescence pattern with the outside flowers shaded a bright, deep pink (ham) and the inside flowers being yellow (eggs). It also can grow to be rather large, and Jason indicates it has been hardy in Jackson.
'Chapel Hill Yellow' has proved hardy for us in Knoxville and has come back for about four years. Somewhat smaller than 'Miss Huff' or 'Ham and Eggs', it usually tops out about 18 to 24 inches. It has a spreading habit that makes it ideal for the front or mid-border. Its solid yellow color brightens up any full-sun location where all Lantanas thrive.
When we are dealing with "hardy" or "perennial" Lantana those terms can be relative in Tennessee as we are in a transition zone of their hardiness range. Depending on your particular micro-climate, one cultivar may be hardy for you but not your neighbor. Shalena Durkot at the UT Gardens, Crossville, has said she has had no luck with any of them, however, Jason and I have had success in Jackson and Knoxville. My advice is to try any of these varieties and see how you fare. Lantanas are beautiful, low maintenance, pollinator-attractors whether they last one season or many.
A variety of Lantana can be found at the UT Gardens, Jackson, and Knoxville.
The UT Gardens includes plant collections located in Knoxville, Crossville and Jackson. Designated as the official botanical garden for the State of Tennessee, the collections are part of the UT Institute of Agriculture. The Gardens' mission is to foster appreciation, education and stewardship of plants through garden displays, educational programs and research trials. The Gardens are open during all seasons and free to the public.