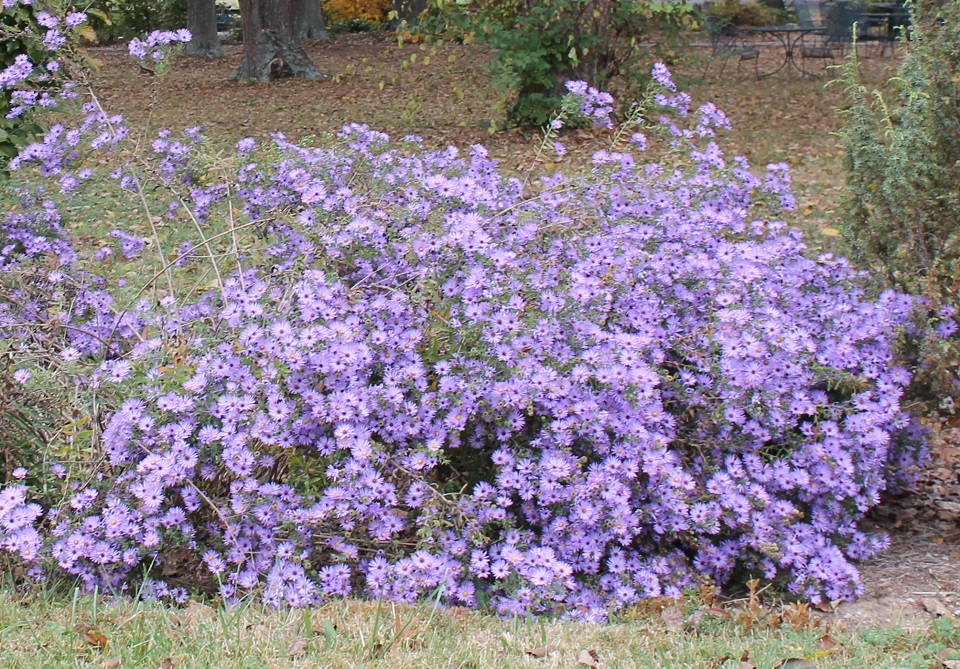 Submitted by James Newburn, assistant director, UT Gardens, Knoxville
Often for our November Plant of the Month the University of Tennessee Gardens will choose to feature an evergreen, ornamental grass or a tree or shrub known for its striking fall foliage or bark. Quite frankly, one reason is that not much is blooming in the garden at this time of year. The Rachel Jackson aster, Aster oblongifolius 'Rachel Jackson' (syn: Symphyotrichum oblongifolium), is an exception and an exceptional one at that.
Valued for being one of the latest blooming asters, this perennial begins blooming about mid- October (in Knoxville) and will last well into November – tolerating light frost. It has masses of beautiful bluish-purple flowers that are the exact color of the purple 'post-it' notes on my desk, and it is a rather robust plant that famed garden designer Ryan Gainey describes as "naturally tumbling." In the UT Gardens, Knoxville, we have several clumps 5- to 6-years old that are easily 9 feet in diameter and about 3 feet tall. They make an impressive display. Spreading from the roots, though not too aggressively, Rachel Jackson aster can be kept in scale in smaller gardens by sharing divisions with your friends, staking and pinching or cutting plants back half way in early summer.
For Tennessee gardeners this plant can have special meaning because it was discovered in the garden of Rachel Jackson, the wife of President Andrew Jackson, at the Hermitage in Nashville. Named by Gainey, Rachel Jackson aster is now available commercially, though it is somewhat hard to find as garden centers often focus on mums and pansies when showcasing fall bloomers. A little searching through catalogs and the internet should result in mail order availability though.
Hardy to zone 4, the plant should have no problem with winter temperatures during dormancy. It appears to tolerate the heat and humidity across the state just fine. This aster thrives in full sun but will tolerate partial shade, though this may result in a more leggy appearance. It also tolerates most soils, but they should be well drained to avoid rot, especially in the winter. After the plant dies back following a hard freeze, at the UT Gardens we leave the foliage for wildlife habitat. We cut it back in the spring.For gardeners wanting a mid-fall splash of color and a touch of Tennessee history 'Rachel Jackson' aster just might be the plant for you.
Contact:
James Newburn, UT Gardens, Knoxville