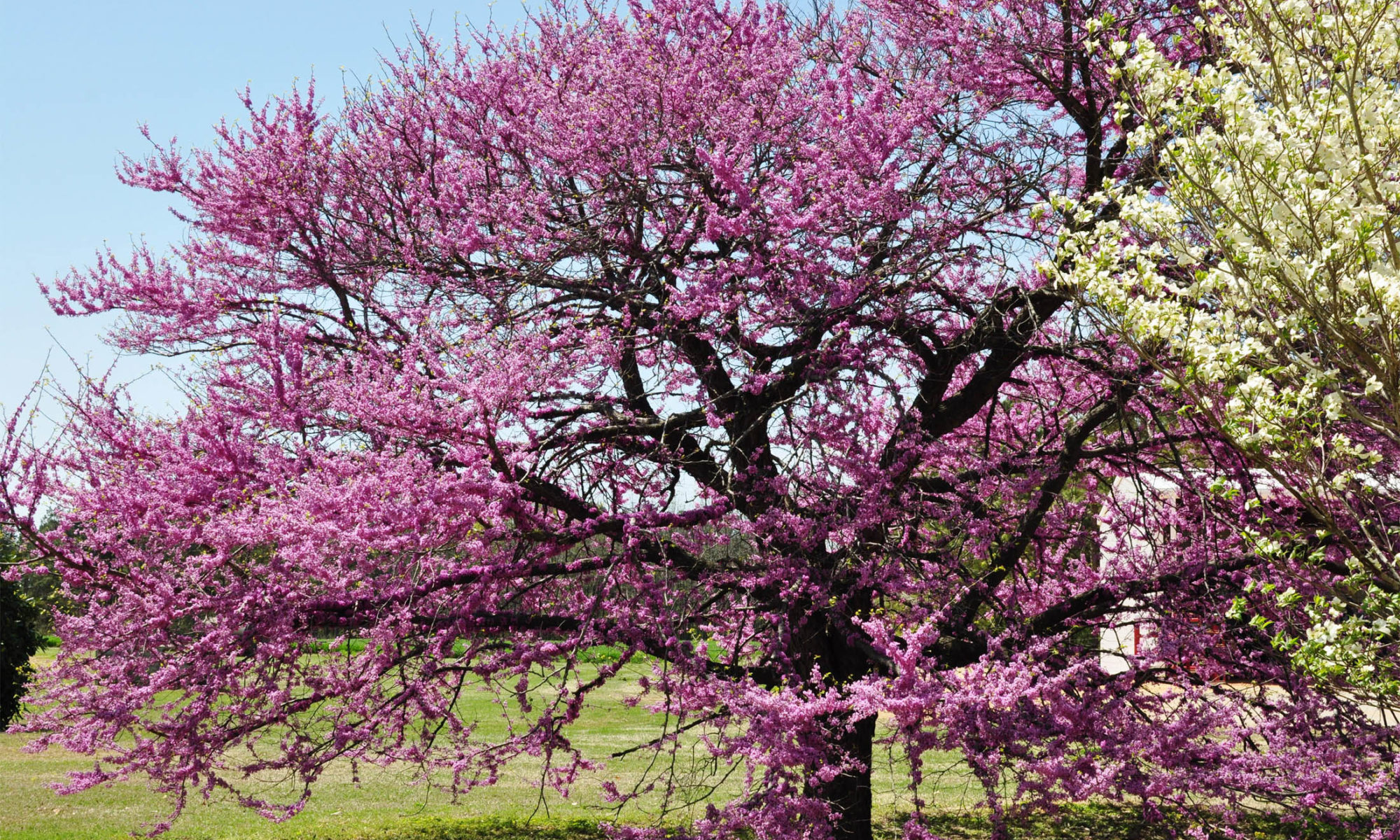 Submitted by James Newburn, Assistant Director, UT Gardens, Knoxville 
March may come in like a lion and go out like a lamb, but one thing is certain – on its way out we are treated with one of our most beautiful native spring-blooming trees. The Eastern redbud (Cercis canadensis) is a harbinger of spring that blooms from mid- to late-March through mid-April before its leaves emerge. The straight species can be seen along roadways and in woodlands covered with reddish pink flowers and blooming slightly before dogwoods. For the garden there are exciting cultivars available that exhibit outstanding and novel characteristics. 
Several of these cultivars can be seen in the UT Gardens in both Knoxville and Jackson. 'Hearts of Gold' is a yellow leafed selection and maintains that color at least on its unshaded outer leaves throughout the year. 'Forest Pansy' is purple leafed and widely available. 'Little Woody' is ideal for a smaller landscape because of its dwarf size (6 to 8 ft) with slightly crinkled leaves and yellow fall color. 'Covey', trademarked as 'Lavender Twist' has cascading contorted branches giving it four-season appeal. 'Silver Cloud' has variegated foliage with irregular patches of white making every leaf unique. And 'Ruby Falls' combines several of these characteristics with weeping habit and burgundy leaves for a real show-stopper. 
All redbuds are relatively easy to grow. Found naturally in the understory, most redbuds will tolerate partial shade to full sun. The yellow and golden leafed varieties maintain their foliage color better if grown in full sun. Variegated forms can avoid scorching if given some afternoon shade. Redbuds prefer moist well-drained soils but adapt to a variety of soil types but don't perform well if in a really wet area. Newly planted trees need to be kept stress free in order to thrive, so avoid prolonged drought or over-watering. Older trees, too, can be helped with a thorough watering during dry spells. 
Redbuds are medium size trees and standard cultivars can reach 20-30 ft in height with a 25-35 ft spread. Dwarf and weeping selections are often much shorter with heights ranging 6-10' ft or even shorter with equal spread.
Redbuds are often paired with dogwoods and flowering cherries creating exuberant spring displays but also consider planting them in front of evergreens where the contrasting pink-red flowers will be shown to full advantage. Anywhere you add it in your garden, you will not be able to deny spring is in the air when the redbuds are in bloom. 
James Newburn is assistant director of the UT Gardens, Knoxville. The UT Gardens located in Knoxville and Jackson are part of the University of Tennessee Institute of Agriculture. Their mission is to foster appreciation, education and stewardship of plants through garden displays, collections, educational programs and research trials. The gardens are open during all seasons and free to the public.
See http://utgardens.tennessee.edu/  and http://westtennessee.tennessee.edu/ornamentals/ for more information.
 Contact: 
James Newburn, UT Gardens, Knoxville, 865-974-8265
Patricia McDaniels, UTIA Marketing and Communications Services, 615-835-4570