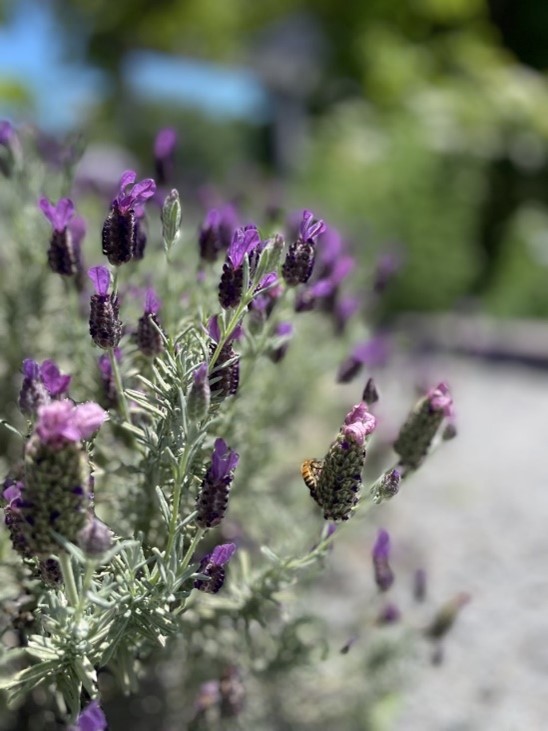 UT Gardens' June 2022 Plant of the Month
Submitted by PJ Snodgrass, Adjunct Professor for Plant Sciences, University of Tennessee's Institute of Agriculture
How many times do you use the phrase "stop and smell the roses"? This sentiment also applies to many plants and especially to lavender.
One of my favorite places in the University of Tennessee Gardens, Knoxville is the Herb Spiral. Not only is the spiral a wonderful display of herbs, but it also features beautiful lavender growing among its rocks. The particular plant is Spanish lavender (Lavandula stoechas). With its "bunny ears" appearance, just looking at it makes you smile because it looks so happy. And the bees love it!
Lavender belongs to the genus Lavandula, which includes 45 different species and more than 450 varieties, with still more in development by plant breeders! This wide variety allows for a vast array of bloom times, foliage and flower colors.
Many people are most familiar with English lavender (Lavandula angustofolia) which boasts 39 cultivars. It is also called common lavender or true lavender. Equally familiar is French lavender (Lavandula dentata), known as fringed lavender, so named due to its toothed leaf shape. Portuguese lavender (Lavandula latifolia) has spike-like flowers and is very aromatic. A popular interspecific hybrid is Lavandin (Lavandula x intermedia), a cross of the English and Portuguese types. It is cold hardy like the English lavender but also heat tolerant like the Portuguese types. Finally, there is Spanish lavender (Lavandula stoechas), which is sometimes referred to, confusingly enough, as French lavender, but more descriptively as butterfly lavender. This type features distinctive wing-like petals and is often used for potpourri.
Do not limit your color palate thinking that this beautiful herb comes only in lilac, blue or lavender. Other bloom colors available are violet blue, rose, pale pink, white and yellow! Many cultivars grow well in Tennessee, including 'Provence', 'Hidecote', 'Phenomenal' and 'Munstead'.
Like many herbs, lavender is a plant of varied uses. Because of its wonderful, soothing fragrance, silver grey foliage and delicate flowers, lavender is often used in essential oils, candles, soaps, hydrosols, culinary and other types of artisanal products. If you ever want a challenge with a beautiful reward, try making a lavender wand. There are plenty of online sources to help you make a lovely, fragrant bundle!
One of the most common uses of lavender is for aromatherapy. Lavandula angustifolia is the recommended species for making essential oils. Take care when applying any essential oil directly to the skin as the undiluted oil may cause skin irritation for some people. Dilute an essential oil by mixing a few drops with a carrier oil such as jojoba or coconut oil. Do a little research about the ratio before mixing your own.
Speaking of research, studies conducted in healthcare settings measured the efficacy of lavender in reducing anxiety, stress, and increasing sleep quality.  A study conducted in 2019 looked at the effects of lavender oil patches on patients in a hematology-oncology setting. Patients who agreed to participate received a lavender patch attached to their gown or shirt at the start of the evening shift. The patients were able to inhale the scent of lavender during the night to determine if they felt less anxiety and experienced better sleep. The patch was removed in the morning when the patient was awake and active. Although it was a small study, its results indicated that some patients reported better sleep quality and milder anxiety when they were wearing the lavender patch. Other researchers in the healthcare settings are looking at the benefits of lavender in patients undergoing chemotherapy or those with dementia, headaches, stress, anxiety or sleep disorders.  
Most lavenders grown in Tennessee are either the English, French or the Spanish types. Typically, the English lavenders are more cold hardy and the Spanish types are more heat tolerant which, based on your location, may dictate your choice. There are a few growing requirements common for most species. Lavenders perform best in well-drained soil and lots of sun. A neutral to slightly alkaline soil is best. Amending the soil with sand or some fine grit will help the drainage. Do not plant lavender too deep. A good practice is to have it slightly above the soil line with soil mounded around the base. This allows the water to drain away from the plant. Since lavender likes heat, you can add some pea gravel around the base of the plant, so heat is reflected up onto the plant. It also dresses up your beautiful lavender!
There is really nothing to lose when you grow lavender. It has so many uses, it is a beautiful and hardy plant and it is very celebrated, so you can put attending lavender festivals on your fun activity list! As with many herbs, there is always something new to learn about lavender, a truly useful plant.
The UT Gardens includes plant collections located in Knoxville, Crossville and Jackson. Designated as the official botanical garden for the State of Tennessee, the collections are part of the UT Institute of Agriculture. The Gardens' mission is to foster appreciation, education and stewardship of plants through garden displays, educational programs and research trials. The Gardens are open during all seasons and free to the public.