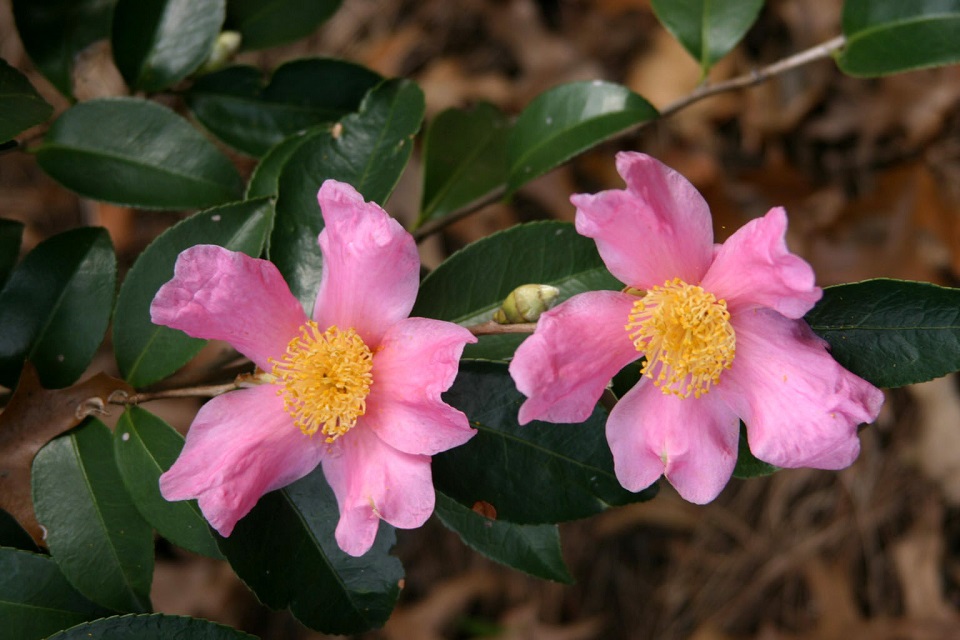 The Traditional Darlings of the South Have A Wider Range
UT Gardens' January 2019 Plant of the Month: Camellia
Submitted by Susan Hamilton, Director of the UT Gardens ​
Camellia is a shrub prized for its showy flowers in the South's winter landscape and its glossy evergreen leaves that stay a deep, shiny green all year.
These woody plants, which can be rounded shrubs or rangy 20-foot trees, are native to Asia. When they first started gaining in popularity in America in the 1800s, they were thought of as hothouse bloomers or the darlings of the Southern garden because the Japanese camellia (Camellia japonica) is only cold hardy to about 10 degrees. After decades of breeding with species from South Korea and Japan, hardier varieties are making their way north and there are plenty of camellias that perform reliably well in Tennessee. Blooms can be as large as 5 inches across with yellow centers or full in the center with rounded overlapping petals, much like a rose.
More than 30,000 cultivars of camellia have been named and introduced, according to the American Camellia Society. Depending upon selection, they can vary from blooming in the fall, winter or spring. Plants are rated as being early flowering (prior to January 1st), mid-season flowering (January through February) and late flowering (March or later). Keep in mind that bloom time can vary depending on environmental factors in your landscape such as sun, soil condition and water. Once in bloom, flowers can last for a period of 4 to 6 weeks but a hard freeze can burn the blooms, thus shortening their show. Bloom colors include shades of pink, red, lavender, white and even multicolored. Selections can also vary in size, growing to a height of 10 feet to 15 feet tall with a spread between 6 feet to 10 feet wide.
Camellia likes an acidic soil (a soil pH below 7.0) with plenty of moisture and good to excellent drainage is essential. Water as needed in summer and in times of drought. Camellia will benefit from being fertilized in the spring with a fertilizer labeled for acid-loving shrubs. It thrives in a partial-shade location or a location with morning sun and afternoon shade, and it makes a good, large specimen plant. It can also be used in mixed screens in the garden. Only if needed, prune camellia within 2 months after it has finished blooming since next year's flower buds will soon begin to develop.
Camellias of old were famous for their lack of winter hardiness (to just USDA Cold Hardiness Zones 7-9 or 0 to 30 degrees Fahrenheit), but the group known as the Ackerman Hybrids buck that trend. William L. Ackerman with the USDA (now retired) bred a series of interspecific crosses between C. oleifera and C. sasanqua, C. hiemalis, or C. vernalis selections. Many, not all, are identified as the Winter series because they bloom in the fall into very early winter.
Being reliably hardy as far north as USDA Cold Hardiness Zone 6 (-10 to 0 degrees), this group is better equipped to handle the cold. Petals are shed individually when bloom is completed, eliminating the tiresome task of dead-heading for the gardener.
I recommend having not just one camellia in your garden but a couple that are known to flower at different times during the fall through spring seasons. This way you can enjoy having a bit of 'flower power' in your landscape when it is least expected!
For more information, check out the International Camellia Society or the American Camellia Society.
The UT Gardens includes plant collections located in Knoxville, Jackson and Crossville. Designated as the official botanical garden for the State of Tennessee, the collections are part of the UT Institute of Agriculture. The Gardens' mission is to foster appreciation, education and stewardship of plants through garden displays, educational programs and research trials. The Gardens are open during all seasons and free to the public.
For more information, see the Gardens website: ag.tennessee.edu/utg​.
Contact:
Susan Hamilton, Director of the UT Gardens