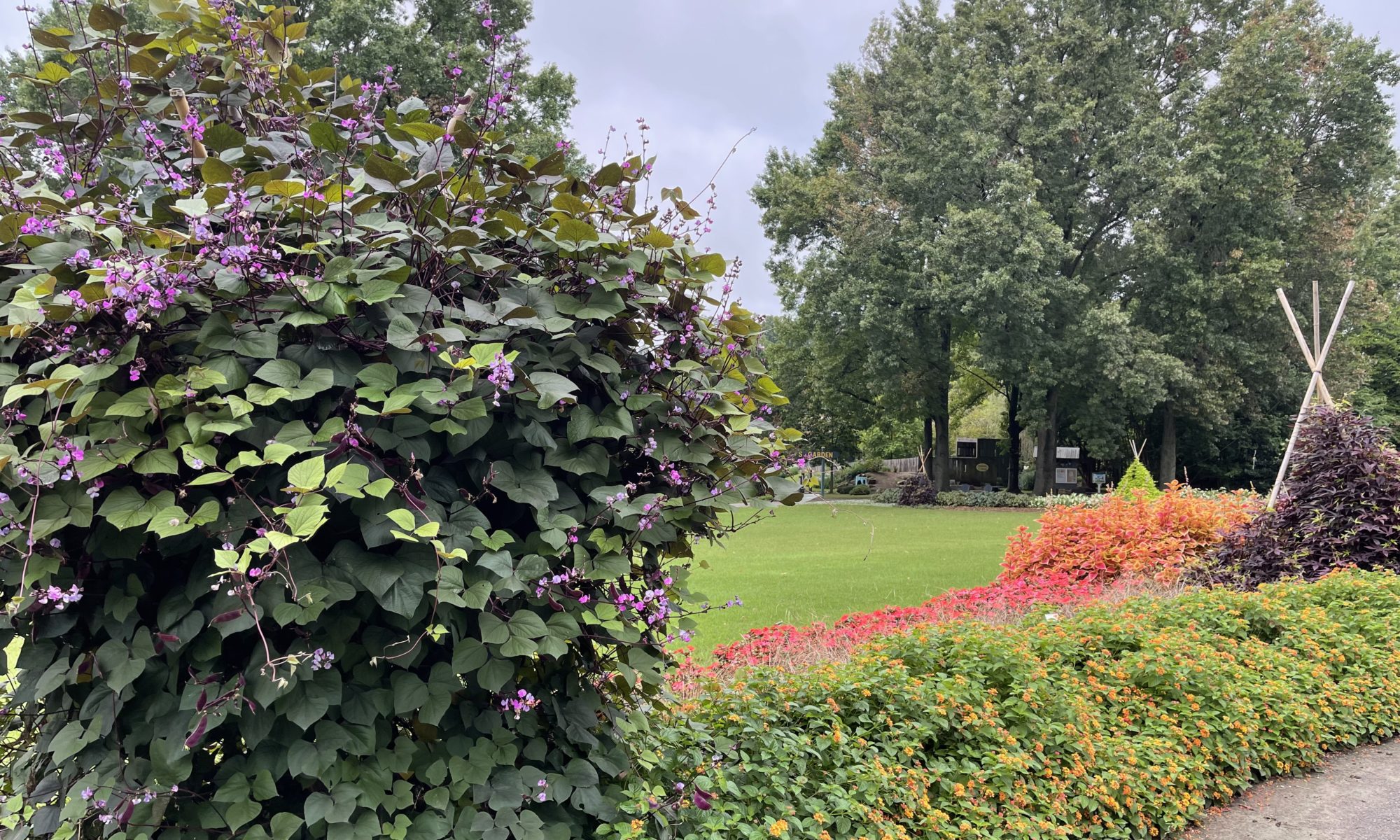 UT Gardens' May Plant of the Month
Submitted by Whitney Hale, Education Coordinator at the UT Gardens, Knoxville
Truthfully, I laughed when I read an excerpt from historical gardening expert Peggy Cornett's book, "Jefferson's Vines of Summer: Beauties and Beasts," where she wrote, "Ask any of Monticello's gardeners and they will tell you that enough has been said about the Hyacinth Bean." Here I am, though, telling you more about it.
The vine's purple stems, leaf veins, flowers and seed pods place it firmly on my list of purple favorites in the garden.
Hyacinth bean goes by many names including Indian bean and Egyptian bean, which provide clues about its origin. Most of the Lablab purpureus plant is edible when prepared correctly, and it has been utilized as a food crop for centuries in Africa and Asia. It arrived in Europe by the early 1700s and gained popularity. Ever the plantsman, Thomas Jefferson is thought to have grown it in the early 1800s at Monticello.
In the United States, this plant has been primarily used ornamentally since the early 19th century. Climbing trellises or spreading along the ground, this vine is a fast-growing annual in much of the Southeast but can be hardy in zones 10 and 11. The shape of the seed pods and flowers indicate that it is in the Fabaceae family (also known as Leguminosae) and is nitrogen-fixing. In fact, it's a great cover crop because it provides nitrogen through fixation and leaf decay, and its extensive root system improves the soil's structure. Farmers may like this plant, too, because it can be used as forage for cattle and goats.
Purple hyacinth bean vine can be easily grown from seed after fear of frost has passed, in full sun and moist, well-draining soil. Protect young plants from deer and provide adequate support for the vines that can be up to 25 feet long. Flowers are white, blue, or purple, and the seed pods can range from white to red or even dark brown depending on the variety chosen. Seeds for purple flowering varieties are easily found in mail order catalogs and in seed displays at garden centers in early spring. Staking against a trellis or archway, similar to what has been displayed in our UT Gardens, Knoxville, Kitchen Garden, makes for a dramatic moment in any garden while also providing shade in the heat of summer. Look for purple hyacinth bean vine growing this summer at the UT Gardens, Knoxville. There, and in your own home landscape, you'll be mesmerized by the buzz of bees and scent of the flowers in late summer through early fall should you choose to add this purple people pleaser to your garden.
The UT Gardens includes plant collections located in Knoxville, Crossville and Jackson, Tennessee. Designated as the official botanical garden for the State of Tennessee, the UT Gardens are part of the UT Institute of Agriculture. The Gardens' mission is to foster appreciation, education and stewardship of plants through garden displays, educational programs and research trials. The Gardens are open during all seasons and free to the public.
For questions or comments please contact: utgardens@utk.edu