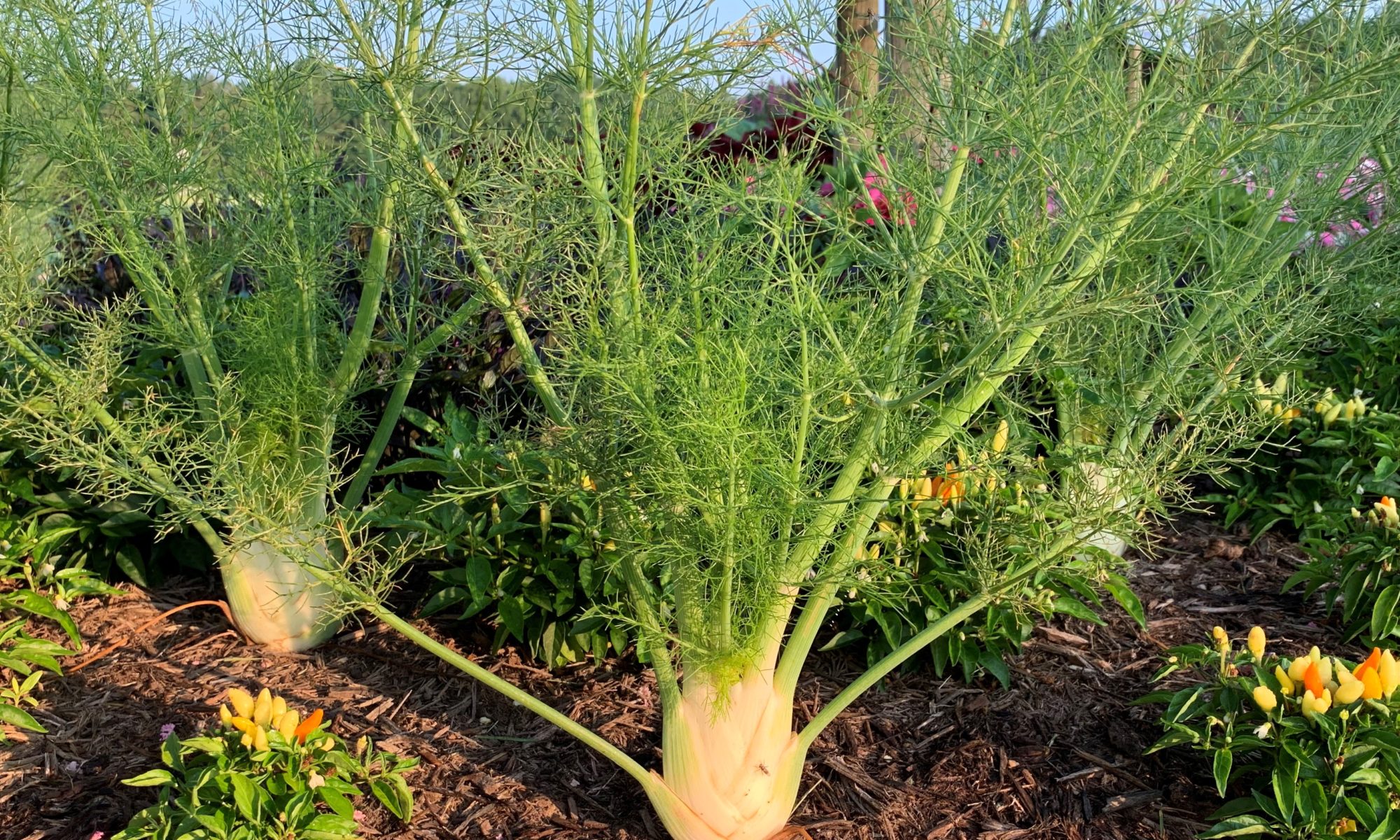 UT Gardens April 2023 Plant of the Month
Submitted by Jason Reeves, UT Gardens, Jackson, research horticulturist, and Camille Sikes, assistant horticulturist
Fennel (Foeniculum vulgare) is a short-lived perennial herb cultivated and naturalized in many places around the world, native to southern Europe along the Mediterranean Sea. Fennel makes a great addition to the garden, fulfilling many roles as an herb, a vegetable, and a pollinator friendly ornamental plant. Fennel is easy to grow in full sun, tolerating lean or rich soil as long as it is well-draining. It is drought tolerant once established. Fennel grows a deep taproot, making it challenging to transplant from one place to another in the garden once it is more than a few inches tall. Seed can be direct sown in the garden as well as transplanted from pots.
Fennel's feathery texture provides a beautiful backdrop to other plants in the garden. The soft billowy and darker foliage of bronze fennel (Foeniculum vulgare 'Purpureum') provides an interesting contrast to plants with coarse green to chartreuse leaves. Plant it with coneflowers, Gaillardia, Rudbeckia, goldenrod, or butterfly weed for a garden that attracts pollinators and provides colorful layers of interest throughout the hot summer. Bronze fennel does especially well in the South, growing between 4- to 6-feet tall. In summer the stems, adorned with dark foliage, are topped with yellow umbel flowers that are highly attractive to a diverse array of pollinators. Bronze fennel will often reseed in gardens more than one might like. Deadheading the spent flowers before they produce seeds will prevent unwanted seedlings taking over the garden. Fennel foliage is a good food source for swallowtail caterpillars, with green types such as 'Antares' favored over bronze.
Fennel has an anise flavor and is one of the main ingredients that give absinthe its taste. Its fresh leaves and dried seeds can be used to season seafood, meats, salads and other dishes. Some cultivars such as 'Antares' produce a white "bulb" that can be eaten raw and has a texture similar to celery with a fresh licorice flavor. When roasted, the bulb caramelizes, taking on a sweet flavor and melt-in-your mouth texture. The bulb forms just above ground at the base of the stalks. Most bulbous fennel is not heat tolerant but we have been growing 'Antares' with great success since it was selected as All American Selection Winner in 2017. It is much smaller in stature than bronze reaching 12-to 18-inches tall. You can find fennel growing at all three of the UT Gardens locations.
The UT Gardens includes plant collections located in Knoxville, Crossville and Jackson, Tennessee. Designated as the official botanical garden for the State of Tennessee, the UT Gardens are part of the UT Institute of Agriculture. The Gardens' mission is to foster appreciation, education and stewardship of plants through garden displays, educational programs and research trials. The Gardens are open during all seasons and free to the public.
For questions or comments please contact: utgardens@utk.edu