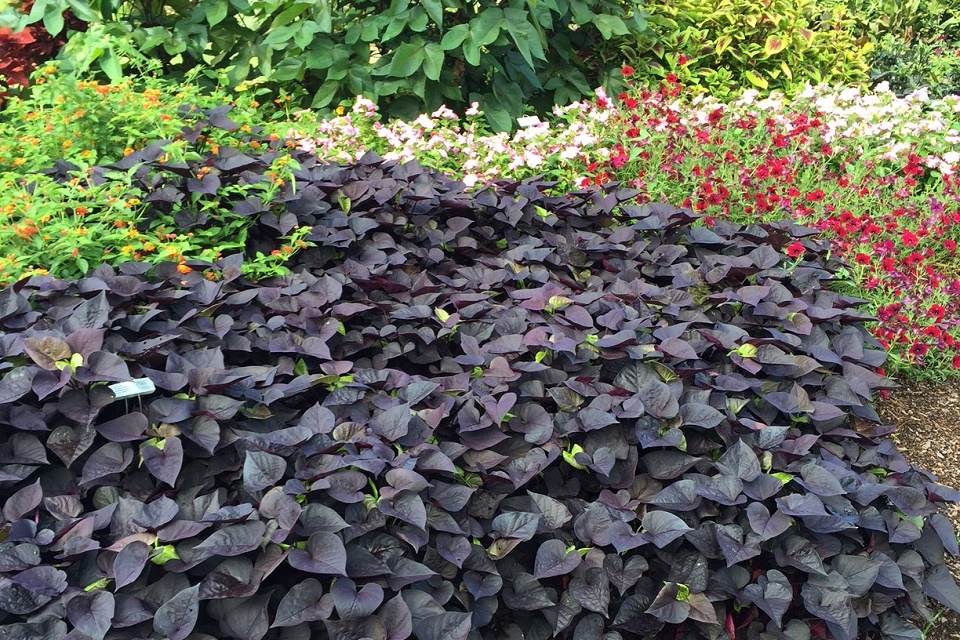 ​Add Interest to Your Landscape with This Vine's Variety of Foliage Colors, Textures
From the UT Gardens
August 2016 Plant of the Month: Sweet Potato Vine

Submitted by James Newburn, Assistant Director and Curator, University of Tennessee Gardens, Knoxville

One aspect of effective landscape and garden design is to pair foliage plants with blooming plants. The combination of complementary or contrasting foliage color and texture with flowering plants makes for striking displays in containers or ground beds. Coleus, ornamental grasses and tropicals – like banana plants – are types of foliage plants that can be used with annual bedding plants and perennial flowers. Over the past several years, sweet potato vines (Ipomoea butatas) have been introduced that are a great addition to the foliage plant repertoire.
Ornamental sweet potato vines are similar to our edible varieties in that they produce tubers and trailing vines but with noticeable differences. Their leaves can have outstanding colors and the tubers (potatoes) produced are inedible because of their bitter and often nonexistent flavor. These plants can reach 10-12 inches tall and spread outward from 3- to a more aggressive 5-feet or more. This has been a boon for professional landscapers and home gardeners as one plant covers a lot of territory.
The edible sweet potato vine has dull green foliage, but the ornamental cultivars generally exhibit shades of chartreuse, black or dark purple, bronze or copper colored, and even a tricolor of pink, white and green. The result is outstanding color combinations. 'Margarita' was one of first cultivars introduced and the lime-green foliage brightened up the landscape with shockingly vivid color. However, its vines swiftly reached six feet or more, often overtaking neighboring plants.
Breeding improvements have resulted in plants that have a more mounded, less aggressive growth habit, an expanded color palette and variation in leaf shape. This gives the consumer some great choices appropriate for containers or in the ground. 'Sweet Caroline Sweetheart Lime' has beautiful heart-shaped leaves and brilliant chartreuse color. Somewhat less aggressive than 'Margarita' it is a great choice to use as a "spiller" in a mixed container. 'Sweet Caroline Raven' features two-lobed maple-shaped leaves in a rich, black-purple color that pairs well with lots of flower colors including yellow, red and orange. 'Spotlight Red' is a deeply lobed cultivar that is much more compact with a 24-inch spread and coppery-red leaves with a rich pink underside. These are just a few of the many choices available now.
Sweet potato vines are easy to grow especially in the south as they thrive in hot temperatures and can tolerate humid conditions. Grow in full sun for the most vibrant color, though partial shade can be tolerated. They are easily affected by cool temperatures so avoid planting too early and expect them to be one of the first plants to be affected as temperatures begin dropping below 40 degrees. By the end of the season, if you find your mixed container plants out of proportion or the neighboring plants in a ground bed being encroached upon, sweet potato vine tolerates pruning well.
The UT Gardens locations feature several plantings of sweet potato vine. We have several cultivars in our current plant trial program, so it can be seen in Jackson and Knoxville. It is also planted in front of the flagpole at the Discovery Gardens in Crossville.
The UT Gardens includes plant collections located in Knoxville, Jackson and Crossville. Designated as the official botanical garden for the State of Tennessee, the collections are part of the UT Institute of Agriculture. The gardens' mission is to foster appreciation, education and stewardship of plants through garden displays, educational programs and research trials. The gardens are open during all seasons and free to the public. For more information, see the Gardens website: utgardens.tennessee.edu
Through its mission of research, teaching and extension, the University of Tennessee Institute of Agriculture (UTIA) touches lives and provides Real. Life. Solutions. ag.tennessee.edu
Contact:
James Newburn, Assistant Director and Curator, University of Tennessee Gardens, Knoxville